New blog, don't really know what I'm going to use it for.
Maybe just a brain dump.
I guess I'll start with what came in the mail today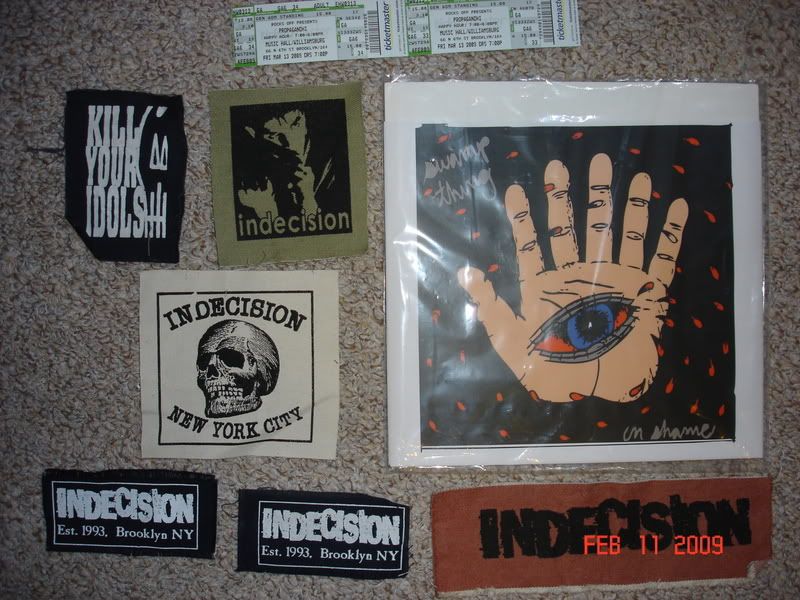 -5 Indecision patches
-Kill Your Idols patch
-2 tickets to see Propagandhi in Brooklyn
-Swamp Thing - In Shame tour lp
The patches i won in an ebay auction, which also included Avail, Dragbody and Leatherface patches. I'm giving Avail and Leatherface to Rob, since I have never heard them. The tickets came from Ticketraper..I mean ticketmaster. And the LP i got from one of the guys from Swamp Thing, Mike was nice enough to hold it for me on their tour and mail it to me because the tour didn't come through NY. I love good maildays. The Lp is just a plain white sleeve, with a wraparound tour cover(piece of paper) and its numbered out of 75, the labels on the Lp are blank w/ stamps. Pretty cool I say.
I guess another thing I can mention is this week I'm wearing a different Kill Your Idols shirt every day. Expect pics of said shirts soon. Now to brew some coffee and read for class...